Items filtered by date: July 2018
Monday, 23 July 2018 00:00
When it comes to maintaining foot health, wearing properly-fitting shoes is important. While wearing the appropriate pair of shoes may seem like a trivial concern, the reality is that improperly fitted shoes cause an astounding amount of injuries to the feet. The overall structure and the biomechanics of our bodies are directly affected by our posture, gait, and feet. Because of this, pain and discomfort felt throughout the body are often related to a problem in the feet. And, most foot problems usually stem from improper footwear.
Shoes should not be purchased with the expectation that they will easily stretch and contort to the size and shape of your feet. When shopping for footwear, look for shoes that fit correctly and comfortably as soon as you put them on. Do not purchase shoes that are too large or that slip in the heel area when you walk. Do not choose shoes that are loose with the intention of wearing thicker socks to compensate for the space. The widest portion of the shoe, the ball of the foot, must be made sure to fit comfortably in the shoe.
Keeping all of these suggestions in mind may be difficult when shopping and when trying to select from a wide array of different shoes. Nonetheless, your time and money will be wasted if you purchase a pair of shoes that are too uncomfortable for you to actually wear them. After finally selecting and purchasing a pair of shoes, try them on at home. To truly ensure whether or not your shoes fit comfortably with normal activity, walk around on a carpeted surface to determine how they feel on your feet.
The possibility of damaging your feet's 33 joints, 26 bones, and 100+ ligaments is much higher than many people suspect. Finding an appropriate and properly-fitted pair of shoes is perhaps the single most important action you can take to maintain excellent foot health and help prevent injury. The fact that our feet continue to change with age is one that many people often forget. Even if our feet no longer change in size when we mature, our feet will still change in shape.
If you already have pre-existing foot problems, there is a greater possibility that wearing improperly-fitted shoes will worsen those problems. The good news, however, is that appropriate footwear is not difficult to find. While shopping for shoes, remember that improper footwear can detrimentally affect the feet, the entire body and its biomechanical structure as well. The shoes you wear can greatly impact your legs, back, and entire body, as your posture and gait are related to your feet. Finding and selecting the best properly-fitted shoes is necessary in achieving optimal health.
Monday, 23 July 2018 00:00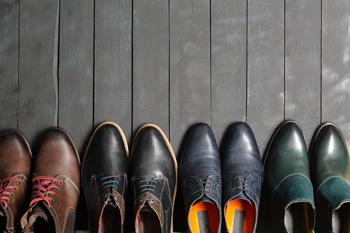 We all know the importance of buying shoes that fit properly. When shoes fit correctly, the feet will not only feel better, but may improve the overall well being of the body. Research has shown that it's beneficial to purchase shoes during the day when the feet are typically at their largest. After having a salesperson properly measure your feet, the shoes should be tried on and walked in to ensure an optimum and comfortable fit. Being aware of how your feet feel in the shoes and trusting your comfort level, will aid in determining the shoe size that is correct for you. When standing in the shoes, a half-inch of space is generally ideal between the end of the shoes and the longest toe. If you find that any particular pair of shoes needs to be "broken in," that may typically be a sign of an improper fit. Please consult with a podiatrist for additional information about how to properly fit for shoes.
It is important to find shoes that fit you properly in order to avoid a variety of different foot problems. For more information about treatment, contact one of our podiatrists from The Podiatry Center, PC. Our doctors will treat your foot and ankle needs.
Proper Shoe Fitting
Shoes have many different functions. They cushion our body weight, protect our feet, and allow us to safely play sports. You should always make sure that the shoes you wear fit you properly in order to avoid injuries and deformities such as: bunions, corns, calluses, hammertoes, plantar fasciitis, stress fractures, and more. It is important to note that although a certain pair of shoes might be a great fit for someone else, that doesn't mean they will be a great fit for you. This is why you should always try on shoes before buying them to make sure they are worth the investment. Typically, shoes need to be replaced ever six months to one year of regular use.
Tips for Proper Shoe Fitting
Select a shoe that is shaped like your foot
Don't buy shoes that fit too tight, expecting them to stretch to fit
Make sure there is enough space (3/8" to ½") for your longest toe at the end of each shoe when you are standing up
Walk in the shoes to make sure they fit and feel right
Don't select shoes by the size marked inside the shoe, but by how the shoe fits your foot
The shoes you buy should always feel as good as they look. Shoes that fit properly will last longer, feel better, and improve your way of life each day.
If you have any questions, please feel free to contact our office located in Millburn, NJ. We offer the newest diagnostic and treatment technologies for all your foot care needs.
Read more about Proper Shoe Fitting