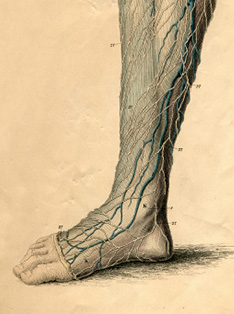 Similar to well known nerve disorders in the hands, such as carpal tunnel syndrome, nerve disorders that affect the foot and ankle occur in patients for reasons ranging from stress to genetics. Nerve disorders of the foot should be addressed right away because they may be immobilizing in serious cases. Two of the most common nerve disorders of the foot and ankle are Interdigital Neuroma and Tarsal Tunnel Syndrome.

Interdigital Neuroma is caused by localized inflammation of one of the nerves that controls toe sensitivity in the frontal area of the foot. This inflammation is generally only found in the second or third interspace, and any other symptoms similar to Neuroma on other digits should be checked against other disorders. Symptoms include chronic burning or tingling sensations between the affected toes which can, at times, migrate to the toes themselves. This pain is often increased by walking, running, or by wearing shoes that compress the toes, such as high heels. A doctor should be consulted if this pain is chronic and if the symptoms get worse.
Typical examinations to determine the presence of Neuroma include radiographs, MRIs, and even bone scans of the affected area. Bone scans are only required if degeneration of bone is suspected, however. Surgery is often not required to alleviate the symptoms of Neuroma, and in many cases functional orthotics can be used to alleviate the stress of constant weight on the affected toes. Surgery is recommended for those patients that suffer from symptoms for 6 months or more, so reporting symptoms early can increase the rate of non-surgical recovery.

Tarsal Tunnel Syndrome, a condition that is less common than Interdigital Neuroma, is similar to Carpal Tunnel Syndrome in that it is caused by a compression of the nerve caused by any number of factors (mostly associated with excess pronation). Typically seen in those that have either flatfeet or valgus heel positions, Tarsal Tunnel Syndrome has patients complaining of moderate to severe ankle pain that starts along the bottom of the foot and often proceeds to the calf. Some more extreme cases occur with partial numbness and even atrophy of the foot and surrounding muscles.
If there is a good chance that someone has Tarsal Tunnel Syndrome, an EMG test is often used to diagnose the condition. If the diagnosis is positive, an MRI can be used to identify the compression of the nerve. Treatment with NSAIDS, functional orthotics, and rest off of the feet is often prescribed, but again, long standing symptoms require surgery, as do exacerbated symptoms caused by lesions present between nerves.