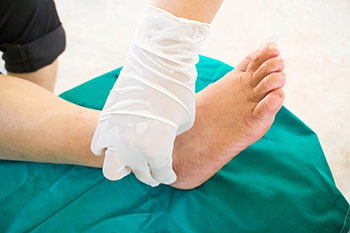 For those with diabetes, early prevention and prompt treatment for wounds can be crucial to maintaining healthy feet. Unfortunately for those with diabetes, minor wounds have the ability to turn into serious ulcers if left uncared for. Simply walking in new or tight-fitting shoes can be enough to form a serious foot condition. Diabetes affects the nerves of the feet, sometimes leaving them with little or no feeling. If a wound therefore develops and isn't felt, it may be hard for that person to recognize they need care.
To avoid ignoring wounds and to help prevent the development of serious foot conditions, it's advised to check your feet daily for any abnormalities. It can also be beneficial to wear comfortable shoes with extra support. Avoiding high heels and other tight-fitting shoes may help in preventing certain foot complications. You should also be careful in how you trim your toenails. Avoid cutting at an angle and digging into the sides of skin surrounding the nail. Lastly, be sure to wash and dry your feet thoroughly to maintain proper hygiene for your feet.
For information on wound care and wound prevention, we recommend you speak with a podiatrist for professional care and advice.