Monday, 19 August 2019 00:00
Peripheral neuropathy is a result of dam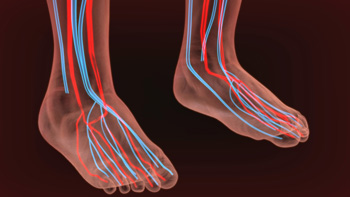 age done to the nerves outside of the brain and spinal cord. This will often cause weakness, numbness, and pain in the feet. This type of neuropathy can result from traumatic injuries, infections, metabolic problems, inherited causes and an exposure to toxins. The symptoms include muscle weakness, a lack of coordination and falling, sharp burning pain, numbness and extreme sensitivity to touch. People who have diabetes, kidney and thyroid disorders, vitamin deficiencies and have a history of alcohol abuse are at an increased risk to acquire peripheral neuropathy. Complications that can arise are infections, burns and skin trauma and an increased propensity to falls. The risk for peripheral neuropathy can be decreased by exercising regularly, avoiding factors that may cause nerve damage and eating a diet that is rich in fruits, vegetables and protein. If you feel that you may be at risk for peripheral neuropathy, it is advised to consult with a podiatrist.
Neuropathy
Neuropathy can be a potentially serious condition, especially if it is left undiagnosed. If you have any concerns that you may be experiencing nerve loss in your feet, consult with one of our podiatrists from The Podiatry Center, PC. Our doctors will assess your condition and provide you with quality foot and ankle treatment for neuropathy.
What Is Neuropathy?
Neuropathy is a condition that leads to damage to the nerves in the body. Peripheral neuropathy, or neuropathy that affects your peripheral nervous system, usually occurs in the feet. Neuropathy can be triggered by a number of different causes. Such causes include diabetes, infections, cancers, disorders, and toxic substances.
Symptoms of Neuropathy Include:
Numbness
Sensation loss
Prickling and tingling sensations
Throbbing, freezing, burning pains
Muscle weakness
Those with diabetes are at serious risk due to being unable to feel an ulcer on their feet. Diabetics usually also suffer from poor blood circulation. This can lead to the wound not healing, infections occurring, and the limb may have to be amputated.
Treatment
To treat neuropathy in the foot, podiatrists will first diagnose the cause of the neuropathy. Figuring out the underlying cause of the neuropathy will allow the podiatrist to prescribe the best treatment, whether it be caused by diabetes, toxic substance exposure, infection, etc. If the nerve has not died, then it's possible that sensation may be able to return to the foot.
Pain medication may be issued for pain. Electrical nerve stimulation can be used to stimulate nerves. If the neuropathy is caused from pressure on the nerves, then surgery may be necessary.
If you have any questions, please feel free to contact our office located in Millburn, NJ . We offer the newest diagnostic and treatment technologies for all your foot care needs.
Read more about Neuropathy
Tuesday, 17 September 2019 00:00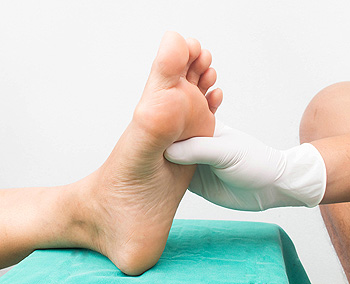 Diabetes can cause potential foot conditions to develop, which may include diabetic foot ulcers. This typically occurs when wounds on the feet do not heal properly and become infected. If these ulcers are left untreated, it may lead to gangrene, and possible amputation. Many diabetic patients suffer from neuropathy. The symptoms of this condition consist of experiencing a tingling or numbing sensation on the feet, wounds in which the pain is not felt, and the feet may feel cold. It is important to have the toenails properly trimmed, and it is recommended that this be performed by a podiatrist. This can prevent the painful condition that is known as ingrown toenails from developing. Additionally, if you are diabetic, it is advised that you are under the care of a podiatrist who can help you manage your diabetes.
Diabetic foot care is important in preventing foot ailments such as ulcers. If you are suffering from diabetes or have any other concerns about your feet, contact one of our podiatrists from The Podiatry Center, PC. Our doctors can provide the care you need to keep you pain-free and on your feet.
Diabetic Foot Care
Diabetes affects millions of people every year. The condition can damage blood vessels in many parts of the body, especially the feet. Because of this, taking care of your feet is essential if you have diabetes, and having a podiatrist help monitor your foot health is highly recommended.
The Importance of Caring for Your Feet
Routinely inspect your feet for bruises or sores.
Wear socks that fit your feet comfortably.
Wear comfortable shoes that provide adequate support.
Patients with diabetes should have their doctor monitor their blood levels, as blood sugar levels play such a huge role in diabetic care. Monitoring these levels on a regular basis is highly advised.
It is always best to inform your healthcare professional of any concerns you may have regarding your feet, especially for diabetic patients. Early treatment and routine foot examinations are keys to maintaining proper health, especially because severe complications can arise if proper treatment is not applied.
If you have any questions please feel free to contact our office located in Millburn, NJ . We offer the newest diagnostic and treatment technologies for all your foot and ankle needs.
Read more about Diabetic Foot Care
More...