Monday, 12 November 2018 00:00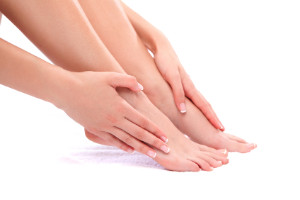 Most people have feet that are two different sizes. It's important to use proper techniques for determining the correct shoe size, and this may aid in preventing uncomfortable foot conditions from developing. This often includes ensuring there is adequate room for the toes to move about freely in, and the feet will benefit by wearing shoes that bend at the ball of the foot. Research has shown the best time of day to purchase shoes is at the end of the day when the feet may be the largest. An accurate shoe measurement can be obtained by tracing your foot on a piece of paper, while wearing socks that you would most likely wear daily. When the foot is traced with a pencil that is held in an upright position, the measurement may be more accurate than if the pencil is angled as this process occurs. After completing this, the shoe size to be determined is by the foot that is the largest and longest. If you would like additional information about how to properly measure your feet so the correct size shoes can be worn, it's suggested to speak with a podiatrist.
Finding a properly-fitting shoe is important in reducing injuries and preventing foot problems. For more information about treatment, contact one of our podiatrists from The Podiatry Center, PC. Our doctors will treat your foot and ankle needs.
Proper Shoe Fitting
A common concern when it comes to foot health, having properly fitted shoes can help prevent injuries to the foot. Out feet affect our posture and gait, which in turn affects the biomechanics and overall bodily structure. With 33 joints, 26 bones, and over 100 ligaments, the potential for serious injury is much greater than one realizes. Although the feet cease growth in adulthood, they still change shape as they mature. Here are some factors to consider when it comes to investing in proper fitting shoes:
Be sure the shoes fit correctly right away
Ensure the ball of your foot fits comfortably in the widest portion of the shoes
Even though they may look fashionable, improper fitting shoes can either create adverse conditions or exacerbate existing ones you may already have
Walk along a carpeted surface to ensure the shoes comfortably fit during normal activity
Keeping in mind how shoes fit the biomechanics of your body, properly-fitting shoes are vitally important. Fortunately, it is not difficult to acquire footwear that fits correctly. Be sure to wear shoes that support the overall structure of your body. Do your feet a favor and invest in several pairs of well-fitted shoes today.
If you have any questions please feel free to contact our office located in Millburn, NJ . We offer the newest diagnostic and treatment technologies for all your foot and ankle needs.
Read more about How to Get a Proper Shoe Fit
Monday, 05 November 2018 00:00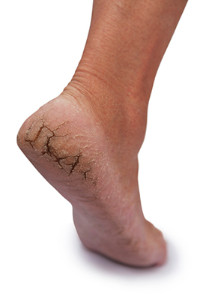 Some authorities have determined that cracked heels may develop as a result of the lack of attention the skin on the heels generally gets. There are many causes why this condition may occur, and having dry skin is generally the most common reason why this ailment may develop. Additionally, if the heels should endure excess pressure from being overweight, the chances of developing cracked heels may increase. There may also be a vitamin deficiency in the body, which may lead to the formation of heel fissures. If you stand for the majority of the day or frequently wear open-back sandals, the skin on the heels may gradually become dry and may lead to this uncomfortable condition. Partial relief may be obtained in washing and drying the feet thoroughly, followed by utilizing a good moisturizer. If you have this condition, please counsel with a podiatrist to learn about preventive measures and additional treatment options for cracked heels.
Cracked heels are unsightly and can cause further damage to your shoes and feet. If you have any concerns, contact one of our podiatrists from The Podiatry Center, PC. Our doctors can provide the care you need to keep you pain-free and on your feet.
Cracked Heels
Cracked heels appear unappealing and can make it harder for you walk around in sandals. Aside from looking unpleasant, cracked heels can also tear stockings, socks, and wear out your shoes. There are several methods to help restore a cracked heel and prevent further damage.
How Do You Get Them?
Dry skin is the number one culprit in creating cracked heels. Many athletes, walkers, joggers, and even swimmers suffer from cracked heels. Age and skin oil production play a role to getting cracked heels as well.
Promote Healing
Over the counter medicines can help, especially for those that need instant relief or who suffer from chronic dry feet.
Wear Socks – Wearing socks with medicated creams helps lock in moisture.
Moisturizers – Applying both day and night will help alleviate dryness which causes cracking.
Pumice Stones – These exfoliate and remove dead skin, which allows for smoother moisturizer application and better absorption into the skin.
Change in Diet
Eating healthy with a well-balanced diet will give the skin a fresh and radiant look. Your body responds to the kinds of food you ingest. Omega-3 fatty acids and zinc supplements can also revitalize skin tissue.
Most importantly, seek professional help if unsure how to proceed in treating cracked heels. A podiatrist will help you with any questions or information needed.
If you have any questions, please feel free to contact our office located in Millburn, NJ . We offer the newest diagnostic and treatment technologies for all your foot care needs.
Read more about Solutions for Cracked Heels
More...